Prenatal yoga, Thursdays 15:30-17:00
Welcome to practice pre natal yoga at Infinite Mama! This class is held in English and will facilitate an opportunity for you to meet other mamas to be, while experiencing a unique preparation to take on the journey of pregnancy, birthing and post partum.

This course will provide you with a weekly luxurious moment of yoga, pranayama and meditation. The main focus is to help your physical body and emotional conciousness to relax and open up for the amazing journey ahead. We will focus on connecting with the intuitive ability and inner wisdom you already have within, which may facilitate this journey immensely.

During the first four sessions of the course, we explore how you can take care of your pregnant body and everything that happens in both the mind and the soul. You will learn to use affirmations and get tips on how to apply your intuition both on the yoga mat and in your everyday life. We also do prenatal exercises based on the spinning babies method. These exercises are well suited to introduce already at an early stage of pregnancy to prepare both body and mind for birthing.

Birth preparation
During the second half of the course we will explore different tools that will help you prepare more specifically for the birthing itself. These tools will come to use however both during pregnancy as during birthing. You will be guided through calm empathetic yoga flows with deeply relaxing guided Yoga Nidra meditation and breathing exercises that will help you release fear and anxiety. This will be your moment to just being, rather than doing. You will get space to feel everything that is present in you and at the same time connect to the new little life growing inside you.

Welcome to a moment for you and your child!
8 WEEK COURSE
Thursdays 15:30-17:00, 8 tillfällen, starting 10th of September with Gabriella, 1 640 kr
SIGN UP
By email
here >>
PRE-REQUIREMENTS
No previous experience of yoga needed. You are welcome just as you are.
TO BRING
If you have your own yogamat, feel welcome to bring it. We also have yogamats and bolsters in the studio.
ELEVATOR
Oue elevator is small, but most strollers can fit in it. Just let us know when you ring the bell on the door if you need any help! <3
PRACTICAL COURSE INFORMATION
You will find our booking system on the pink button "Schema & bokning" in the top right corner of your website. Here you can cancel you booking if you will need to do so due to illness or other reasons. When you cancel at the latest 4 hours before the class begin, you will have the class credit left to use among Infinite Yogas complete class selection, during the time period of your course.
CORONA-SAFETY
We have reduced the number of participants in our classes to 12, in order to have extra space between the yogamats. Feel welcome to bring your own yoga mat and blanket to the studio, if that feels better for you. If you do not have you own mat, you can borrow in the studio, feel weocome to bring you own blanket to put on top of the mat.
If you feel ill in any way, we kindly ask you to stay at home. See info above on how to cancel your spot in class, so that you can save it for later.
More information in Swedish about or guidelines due to Corona here >>
QUESTIONS
info@infiniteyoga.se
ABOUT YOUR TEACHER
Gabriella Blomqvist
has a great passion for the yogic path and applies it as a tool for self-compassion and personal development. She has the ability to bring out the inner strength and wisdom of the people she meets on the yoga mat - qualities we all have but for some hidden in the dark. Gabriellas classes are guided by her connection to the love she has for the traditional yogic path. Applying soft empathic flows that enable the body to open up and transform along the journey and ready to receive new information while letting go of that which no longer belongs. Gabriella will guide you into deep relaxation with intuiteve visualisations - taking you much beyond.
Gabriella has over 12 years experience of teaching yoga, with a background in vinyasa yoga, hatha yoga, yin yoga and more recently prenatal yoga and mama baby yoga. Being a mother of two children she has had the hands on experience of what it entails to move through this period of life and the changes that follows - physically, mentally and emotionally. Gabriella wish to give more mothers to be and new mothers respectively an opportunity to flow through this journey with a great sense of trust and abundance. In every class, she will invite you to a moment of self-love, deep relaxation and new insights.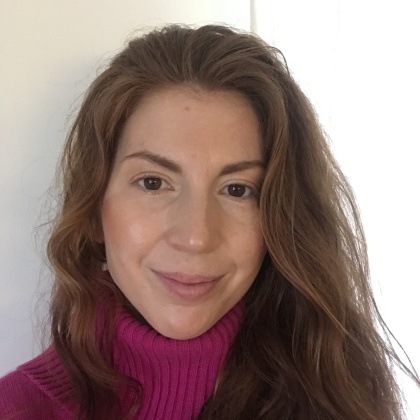 Said about pregnancy yoga & mama yoga at Infinite Mama: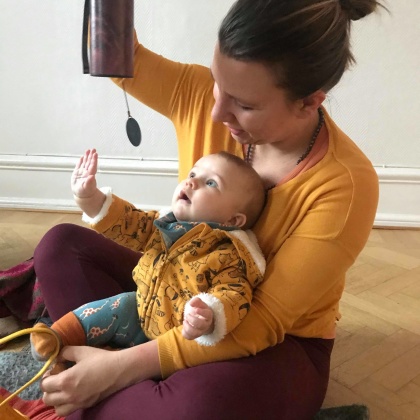 "My biggest fear before our child was born was being isolated and lonely in motherhood. To go from my rich social calendar to the empty apartment alone not knowing what the days would be like. This is why I sought after going to mama baby yoga very early - Karla was 5 weeks old when we joined our first course. Infinite has since become a place where my child and I can meet, as the person I was before she came and the person I am since she is with us. It has become the safe space in which to discover who I want to be as a mother, an oasis away from all the musts, the shoulds and all those stressful even if well intended advice. Here we both feel at ease in body and soul and get the energi we need to discover the world together. I am full of gratitude for this community!"
Hannah Stanton and daughter Karla, who have been participating in Medveten Gravidyoga and Mamma Baby Yoga at Infinite Mama 2019-2020

LÄS VAD ANDRA SÄGER OM GRAVIDYOGA OCH MAMMA BABY YOGA PÅ INFINITE MAMA HÄR >>