Restorative Yoga Teacher Training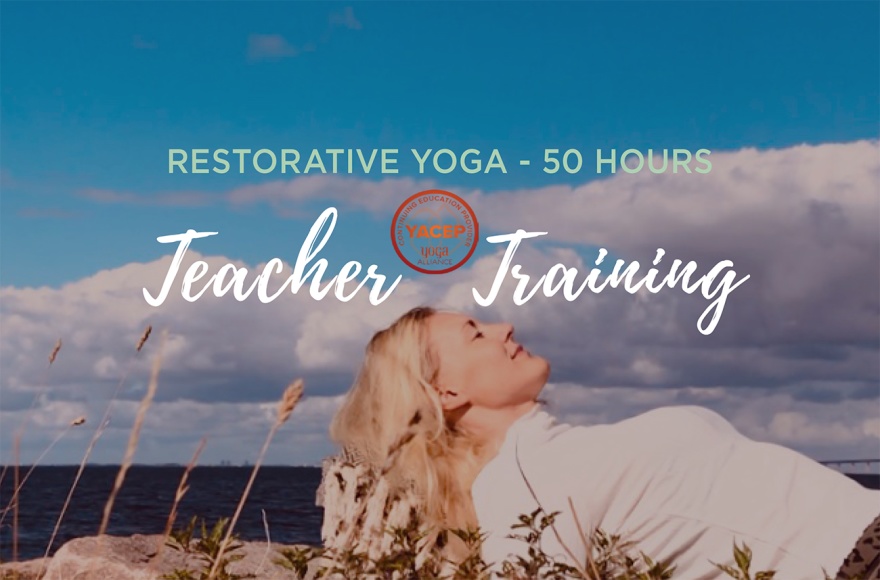 EARLY BIRD INVESTMENT UNTIL 29 JANUARY 2021

News 2021 - Training runs in-studio for a limited amount of students & ONLINE LIVE

- Create space in life - within & without -

This 50 hrs Yoga Teacher Training & Immersion will give you a certification of continuing education with Yoga Alliance, and takes place during two weekend modules. It speaks to all yoga teachers ready to deepen their knowledge within the beautiful and healing practice of Restorative Yoga.
The training also welcomes anyone wanting to immerse in the practice for personal reasons. If you find yourself struggling with finding peace of mind and relaxation, or longing to reconnect with your innermost longings or needs ~ this training might be for you.

Book your spot or get in touch for more info:
50 HRS YOGA TEACHER TRAINING & IMMERSION
Restorative yoga is the art of letting go. When practiced, the parasympathetic nervous system is activated, which can be described as the opposite of the fight-and-flight response. Due to today's lifestyle many of us might not have landed in the parasympathetic nervous system in a very long time, which is why we often feel the results of the restorative practice immediately during and after class. In restorative yoga we use lots of props; blankets, pillows, bolsters, blocks and straps - to help alleviate both body and mind in a deeply relaxing moment, having true potential to extend its benefits to the patterns of our everyday life.

Restorative yoga is a deeply healing practice and can help you to find focus, peace of mind, and to become more present in your everyday life. It has proven to be an efficient tool in reducing stress-hormones and muscle tension, in supporting the function of the immune system, improving sleep quality, and much more.

These days the practice of resting, letting go and making space for ourselves is more important than ever. In nourishing ourselves, we are also able to nourish our relationships and the world we live in.

WHY THIS YTT COURSE?
Yoga Alliance Certification
Receive a certification of 50 Yoga Alliance Continuing Education Hours (YACEP®) upon completion of the training. This in-studio training enables you to teach worldwide.

Self-development
This training builds around your personal needs and reasons for participating and invites to all of your life experiences to form part of your teaching style. We work towards bringing out your uniqueness through self-developmental exercises.

LIVE Mentoring
Have access to your teacher at all times throughout the course, with absolutely no pre-recorded content. This is a IN STUDIO LIVE course, where you will be able to communicate and have all your questions adressed in real time. We are taking all COVID-19 precautions in the studio, and making sure all is safe.

Teach IRL & Online
Learn how to teach with presence both in real life and online. Experience the benefits as well as challenges when teaching onscreen and offscreen. As a yoga teacher these days we have the opportunity to connect with our students anywhere, all over the world.

Ready to Teach
You will be able to teach Restorative Yoga directly after this course. Which means that you do not need to have completed any other yoga training/course prior to this course.

Community
Meet and get inspired by other students and teachers sharing the love and passion for yoga. We share a safe and heartfelt space where all experiences, feelings and sensations are welcome. Everything personal that is shared within the group, stays between us.

Precense from the Animal Realm
During this training you will also run in to yoga dog Shiva, a small and cuddly Russkiy Toy terrier. Shiva sometimes also joins Anneli's therapy offerings, giving extra healing and warmth to our sessions. In case of allergies, let us know before booking your spot.

COURSE BREAKDOWN
This course takes place in the beautiful studio Infinite Yoga in Malmö, Sweden, during 2 weekend modules; 13 - 14 March & 17 - 18 April 2021.
It is a smaller group training with a limited amount of participants, to grant you the maximum interaction and contact time. News for this year is that it's running live online, so that you can join from where you are if unable to grab a spot in-studio. The training puts you as a teacher and individual in centre, recognising your personal needs and reasons for taking the course, hence your course becomes highly personal and part of your self-development journey.
The training is built according to the Educational Categories of Yoga Alliance; Techniques, Training & Practice/ Teaching Methodology/ Anatomy & Physiology/ Yoga Philosophy, Lifestyle & Ethics.

Theory & Philosophy
History & B.K.S Iyengar
The difference between Restorative/ Yin
Fascia & Deep Tissue Release
The Physical & Mental Benefits
The Parasympathetic Nervous System
Alignment for injuries/back pain/muscle tension release/stress release/women's moon cycle/ pregnancy/ menopause etc.
30+ Asanas
Demonstration, modifications and class workshops
Self-practice, group practice, 1:1
Using yoga props / Sound vs. Silence
Translating the Chakra System to modern life
Restorative and Meditation
Restorative and Mindfulness
Restorative and Yoga Nidra
Mind-body Connection
Breathing Exercises/ Pranayama vs. Breathwork
Healing Mantras & Mudras
Coping strategies for Stress
How to hold space & Shine your Gift as teacher
Ethics & Healthy Boundaries
Adding Restorative Yoga to your life and yoga business
INCLUDED IN THE COURSE
A Restorative Yoga Manual
All study material
10 ready-to-use Restorative Yoga Sequences
Please note: Meals and accommodation are not included.
TO RECIEVE YOUR CERTIFICATE
Attend all course hours
Written exam
Home practice and home studies
10 documented Restorative Yoga classes (5 with head teacher)
WHEN
Module 1: March, 13 - 14
Module 2: April, 17 - 18

WHERE
Infinite Yoga Malmö
Gustav Adolfs torg 43
Malmö, Sweden

LANGUAGE
English/ Swedish as needed

INVESTMENT
14 500 SEK (1 Oct - 18 Oct 2020)
12 325 SEK (Early Bird Price with 15% discount until 29 Jan 2021)
Part payment is available. Please note that 3 000 SEK is a non-refundable booking and adminstration fee to reserve your spot. Will be returned in fully in the event of course cancellation.

ENROLLMENT AVAILABLE UNTIL
18 October 2020
Book your spot or get in touch for more info: anneliwisenyoga@gmail.com, +46705595944

ABOUT YOUR FACILITATOR
Anneli Wisén is a RYT 500 accredited yoga teacher, a E-RYT 200® and YACEP® provider, holding certificates in Hatha, Vinyasa, Ashtanga and Restorative yoga. Originally from the north of Sweden, she has been travelling, living and teaching worldwide, from Spain, to Malta and Bali. As a yoga teacher trainer, she offers YTT's in Restorative Yoga and Vinyasa Yoga as a Healing Art.

In her classes you will be guided towards finding inner balance and wellbeing, and towards reconnecting to your authentic and unique core where transformation and the meeting with your own inner healer can take place.

Anneli is a certified Holistic Coach, Reiki Master therapist & teacher, Breathwork facilitator, and offers astro readings in Shamanic Astrology The Paradigm™.


SAID ABOUT THIS TRAINING
"I cannot recommend this course enough! Friendly enough for beginners and advanced yogis alike, Anneli carefully lays this course out in an extremely special manner. Incorporating lectures, hands on demonstrations, group discussions and self practice and reflection included. I left each day eager to learn more and feeling so full from all that I had learned. Really teaching me how to restore my body, mind and spirit, this course is a must if you are interested in slowing things down and going inwards as well as learning to teach this to others. Anneli is an amazing teacher who really goes the extra mile to make you feel the effects of the course!"
— Stephanie Warner

"Anneli is as sweet and empathetic as she is knowledgeable and strong - bringing more to the yoga class than the physical aspects only. If you want to meet a brilliant and inspiring yoga teacher, she's the one! I am also very grateful for all her teachings, listening and open discussions during the yoga teacher training. I found her guidance precious for my self-discovery journey."
— Anna Sangaré

"When I first experienced Anneli's restorative class, I immediately fell in love (…). So when the opportunity presented itself to do the 50 hrs course with her, I jumped at it. The course is well set up with workshops, reading material, tasks to do at home, deep conversations () and of course, restorative sessions. If you wish to experience true relaxation and a healing sensation, then this is the course for you."
— Joanne Bonello

"After completing my Restorative YTT with Anneli I can truly say how happy I am, and how much I've learnt with this amazing teacher. I love the way she organised the course, and all the information and discussions that was shared. She has helped me and been there for everything that I've needed. I couldn't be more grateful, and I totally recommend her as a teacher and healer."
— María del Pilar Clemente

ABOUT THE VENUE
Infinite Yoga Malmö is a calming, luxurious oasis offering yoga, meditation, breathwork, Reiki, massage therapy, life-coaching and psychotherapy. We offer a space where you can fully rest, be yourself and find new direction and creativity.

With focus on yoga as a guide towards self-development, we give tools for handling challenges in everyday life, for meeting your emotional needs as well as a deeper understanding of yoga philosophy and yoga psychology.

Every time you visit is an opportunity to gain new insights for growth and self-awareness. Welcome home!